After School Care
Cosiness, sportivity and learning at the same time.
We offer After School Care, Before School Care and Midday Care for children aged 4 to 13 on several locations throughout Katwijk, Rijnsburg, Valkenburg and Noordwijk. At our locations we offer the children fun and challenging activities as well as outings, on a daily basis, taking into account what their age and interests are. Child participation plays an important role with the choice of activities and the development of the activity programmes.
An After School Care location is always linked to one or more primary schools. Special education is the only exception to this.
Child participation
Child participation is a way of working which aims to involve the children and give them an actual say in the way the After School Care is run. Care for each other is our mission. So also caring for your child and his/her specific needs, wishes and surroundings. We do not want to take over from the children, but support them in discussing and implementing plans themselves. This way we believe we can contribute to the development of their social and personal skills and introducing them to the norms and values ​​of the different children. And of course we want the children to have a fun, relaxing time.
At the After School Care we do a lot of outdoor activities, crafts and reading. We also organise fun and educational trips, for example to the forest, a museum, the playground or to the beach. We work with theme weeks and days. Under the theme of the moment we offer the children several creative, sportive and educational activities.
We offer several After School Care packages and services for you to choose from. Below you can find an overview.
Customized advice?
Which type of childcare works best for you as parents? We are more than happy to help you make the right decision.
Contact our Customer Service: 071-4097535 »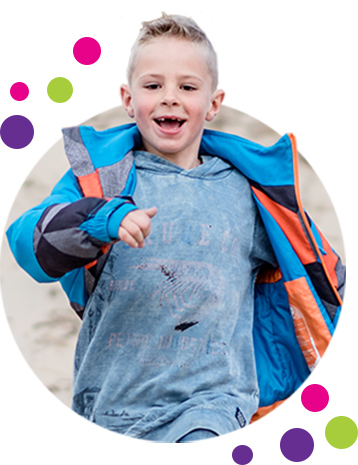 Collaborating schools
Katwijk
BSO De Duintoppers:  De Duinroos, Groen van Prinstererschool, Sjaloomschool, de Voetiusschool en de Leidse Buitenschool.
BSO De Quickers: Christelijke Opleidingsschool, Farèlschool en de Oranjeschool.
BSO De Zonnewijzer: Gaspard de Colignyschool en de Ds. R.P.A. Rutgersschool.
BSO De Vrije Vogels: OBS de Krulder, Prins Willem Alexanderschool, Mr. J.J.L. v.d. Brugghenschool, Rehobothschool, Marnixschool en De Windvang.
BSO De Kleine Horizon: RKBS de Horizon en de Willem van Veenschool.
BSO Brugghenschool: Mr. J.J.L. v.d. Brugghenschool (4 – 7 jaar)
Rijnsburg
BSO Villa Kakelbont: De Wegwijzer, de Emmaschool, de Wilhelminaschool, De Schakel en De Vlieger.
BSO Oranje Nassau:  Oranje Nassauschool en de Julianaschool
Valkenburg
BSO Rakkers: Obs de Dubbelburg en Cbs de Burcht.
Sport-BSO Valken : Obs de Dubbelburg en Cbs de Burcht.
BSO Buitengewoon: Obs de Dubbelburg en Cbs de Burcht.
Noordwijk
BSO Wereldwijs: OBS Wereldwijs and upon request
After School Care with or
without school holidays
At our After School Care locations, our pedagogical staff look after your child after school. You can chose between After School Care with or without the school holidays.
During the school weeks, our pedagogical staff will pick up the children from the various schools at the end the school day. Older children can come to the after school location independently.
During the school holidays we merge After School Care locations, for example to do joint activities and outings. The Holiday Care can therefore take place at a different location than where your child is enrolled. To ensure an adequate planning it is important that you let us know in time if your child won't make use of the Holiday Care.
Holiday Care
In addition to the regular After School Care, we provide the so called Holiday Care. By this we mean childcare for full days during the school holidays. If you only want to make use of After School Care during the school holidays, you can choose our 12-weeks After School Care package.
In holiday weeks, our After School Care is opened from Monday to Friday from 7:30 am to 18:30 pm.
Before School Care
During schoolweeks, your child is welcome at our Before School Care from 7:30 am. Until it's time for school your child is staying in the same room where the After School Care takes place. Our pedagogical staff ensure that your child is at school on time and bring him/her to the classroom.
Not all After School Care locations offer Before School Care. Therefore it is possible that your Before School location differs from your After School Care location. Please contact our Customer Service for more information.
Extra opening on school closing days
Sometimes the school your child attends, closes early or for the entire day, for example due to mandatory seminars for teachers. For these days we offer you the possibility to make extra use of After School Care. Our locations open only with a minimum of 4 children. We include the known closing days to our planning in advance, like the Friday before school holidays. In order for you to make use of extra After School Care, it is essential you apply for this service through the parent portal of your child in our 'Ouderportaal'. We always charge the costs for extra days afterwards.
Warm meals
At all of our After School Care locations, we offer you the opportunity to purchase warm meals for your child. You can find more information here.