Our team
Close team of 150 enthusiastic employees
Since 1988 Childcare Katwijk offers care to children aged 0 to 13 years in Katwijk, Rijnsburg and Valkenburg. On 1 January 2018, Childcare Katwijk and Stichting Peuterkring officially merged and continued jointly under the name Childcare Katwijk. As per 2009, the foundation is under the supervision of Carla 't Hooft.
Childcare Katwijk is an ambitious and service-orientated organisation. We provide all possible professional care for children aged 0 to 12 at 26 different locations in Katwijk, Rijnsburg and Valkenburg. With a close team of 150 enthusiastic employees it is our ambition to be an inspiration for our environment by investing in the future of children.
Head office
Our head office is located at Children's Centre the Bomschuit in Katwijk. On the ground floor you will find our Customer Service, where you can go with all your questions regarding the care of your child. On the first floor are the offices of the director, the managers and the departments of Finance, Quality and Human Resources Management.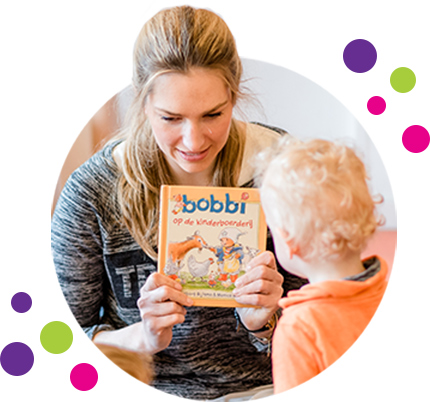 Would you like to join our team?
As a pedagogical staff member or in a different role?
Have a look at our vacancies!
Certified pedagogical staff
Besides the staff at our head office, our team consists mainly of qualified pedagogical staff. At all groups we work with two or three permanent pedagogical staff members, depending on group size. To reduce the number of different faces for the children, up to three of four different permanent employees work per week in each group. In case of illness or leave of one of the permanent staff a familiar substitute will work instead.
Our pedagogical staff comply with all legal requirements related to working with children. This means they have at least a relevant qualification at MBO-3 level. Since 2016 they all hold a diploma in Dutch 3F level.
Because we highly value the quality of our care and the safety of the children, our pedagogical staff get's continuous training in pedagogy and safety. All our employees have a children-first aid certification and at each location there is always a member of our emergency response team present.
Because we work with the Pre-School Education program, our Day Care and After School Care employees are in possession of a diploma Toddler Talk (Peuterpraat).
In addition, a number of our employees are certified for BookStart (BoekStart), a read-stimulating program we work with in cooperation with the Katwijk Library. By means of BookStart we want to stimulate reading and reading out in a fun way. Together with their colleagues, the certified employees ensure that reading (out) becomes a regular part of the children's daytime rhythm, and that all locations have a cosy BookStart reading corner.
Accredited training company
Childcare Katwijk is an accredited training company for interns. Every year we train between 10 and 20 intern in becoming fully qualified pedagogical staff. These can be students of different courses, such as the training Pedagogical Worker 3 or 4, Social Work or Sports and Exercise Leader.
While on the job, the trainees are always accompanied by a work supervisor. These are experienced and certified pedagogical staff members. The work supervisors are supported in their work by our 'in-service' trainer. She is responsible for the overall learning process of all interns.
Management of pedagogical staff
The pedagogical staff are managed by a head children's centre (CC). In most locations the head CC is assisted by a deputy head. The (deputy) head acts as a point of contact in the centre, both for employees and parents. Questions, comments and concerns about the group of your child, you can discuss with the pedagogical staff. Is the contact you have with pedagogical staff not to your liking? Or would like to discuss matters unrelated to the group of your child? Then you can make an appointment with the head or deputy head of your child's centre.
Tutors
Alongside our pedagogical staff, we work with a team of tutors at our Pre-School locations. The purpose of a tutors (plusleidsters) is a more intensive, individual approach to children aged 2 to 4 years old with a developmental disadvantage. They also advise the pedagogical staff and provide the indication for a third and/or fourth (free) session before children start the so called plus-track.
The tutor guides the children individually or in small groups and will, during part of the morning or afternoon, visit our Pre-School locations to give children additional guidance in the areas of speech, language and/or other development area's. Naturally all of this happens in consultation with you and with the permanent pedagogical staff of the group.
Together with the pedagogical staff the tutors ensure a transfer of information to the primary education and other forms of education.
The role is carried out in cooperation with the project group Toddler Talk. Every year they evaluate what the follow-up phase will look like.
Care coordinator
The care coordinator monitors the internal procedure around children with extra needs at Pre-School and ensures a good running procedure when there is a suspicion of domestic violence and child abuse. She has an important role in the implementation of the Care Plan and Report Code Domestic Violence within the organisation. In addition, she provides practical support to the team and advises them on issues. The care coordinator visits the different Pre-School locations on a regular bases.