Day Care
Childcare for 0 to 4-year-olds
In total we have 6 Day Care locations througout Katwijk, Rijnsburg and Valkenburg.
At our locations we mainly work with vertical groups, these groups consist of children aged 0 to 4 years old.
Vertical groups have a number of advantages:
Safety and bonding: in principal, children stay together in the same care group for the entire period of care, with the same familiar staff members.
Family situation: a vertical group matches the natural family situation more closely. Brothers and/or sisters can, if desired, be placed together in the same group.
Social skills: children learn how to respect each other in a natural way and will be encouraged in their social skills.
Development: the older children learn how they can help younger children. The little ones learn from the older children, also in the area of language development.
At our day care we work with the PSE-program Toddler Talk, which stands voor Pre-School Education.
We have several Day Care packages and services you can choose from. Below you can find an overview.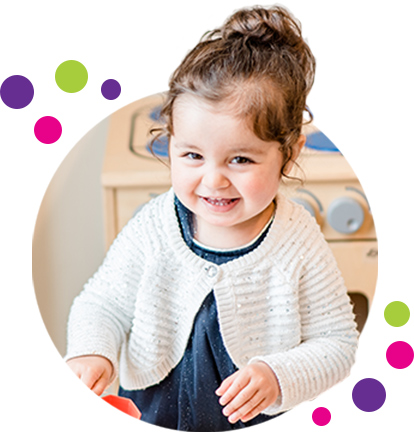 Customized advice?
Which type of childcare works best for you as parents? We are more than happy to help you make the right decision.
Contact our Customer Service: 071-4097535 »
Full days
We offer Day Care for 5 days a week between 7:30 am and 18:30 pm. Upon request, a number of our locations: Children's Centre the Bomschuit, the Zandkasteel and Spelevaren, can be open from 7.00 am. It is however required you request this at least one week in advance, so we can take this into account when making our planning.
Half days
You don't need care for the entire day? Then you can opt for Half-Day Care. Half Day Care is available from 7:30 to 13:00 or 13:00 to 18:30.
Warm meals
At all of our Day Care centers, we offer you the opportunity to purchase warm meals for your child. You can find more information here.
Flexible Day Care
Do you work variable shifts and do you need different days of day care each week? In that case, the combination of care and work can be a real challenge. With Flexible childcare for children aged 0-4 years, we offer the possibility of matching days or half days of childcare to suit your working schedule. This 'customized care' is offered at Children's Centre the Bomschuit. At this location we have a separate flex group. More information about Flexible Childcare is available here.
Day Care for children
that need extra care
Children who need extra care, are very welcome at our Day Care. You can specify this when registering. After registration a placement interview will take place between you and the head of the child center to discuss whether we can and should provide the care your child needs. After this interview, the head of the Day Care center will decide whether or not we are capable to offer Day Care to your child.
Toddler School
Our Toddler School is an excellent preparation for primary school. Every toddler's fourth birthday is a big milestone. The primary school period is about to start. This transition is quite large, for both the child and the parents/carers. Children should be able to stand up for themselves in a classroom full of toddlers. The Toddler School is the ideal way to prepare for primary school in a playful way. For example, the day starts with a circle-moment, just like at primary school and the Pre-School Education program has our main focus.
Toddlers get offered fun and age appropriate activities which, in addition to speech and language development, also encourage the personal and social development. For example: playing together, independence, self-reliance, toilet training, norms and values ​​and fine and gross motor abilities. Our Toddler School is available for all toddlers from the age of 2 and can, if desired, be combined with Day Care by working parents.
The Toddler School is offered at Children's Centre the Bomschuit in Katwijk.
Would you like to visit one of our locations? We are more than happy to give you a tour.