Getting accustomed
It's important for children to get accustomed to childcare
One child handles new situations better than the other. That's why we think it's important to pay a lot of attention to children getting accustomed to childcare.
When the placement is final, one of the employees of your child's group will contact you to make an appointment for an intake interview on site, for a further introduction. We will try to plan this interview at least 2 weeks before the start date of the contract.
Within Childcare Katwijk and Peuterkring we find that getting accustomed to childcare consists of 3 key pillars:
Getting accustomed to the pedagogical staff & the mentor
Getting accustomed to the location
Get accustomed to the group of children
While the child is getting accustomed to the childcare, the pedagogical staff will give your child as much positive attention as is necessary and (try to) let him/her participate in the daily routine and the group activities. This can be done for example by hugging, playing a game alone or with other children, reading a book together, or giving your child the space they need.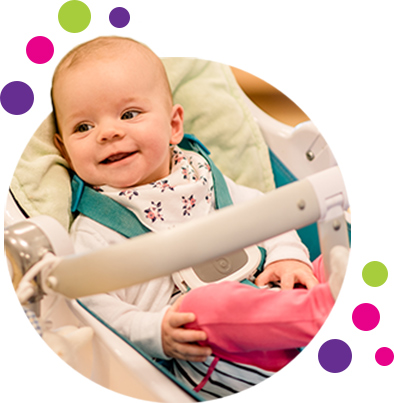 Customized advice?
Which type of childcare works best for you as parents? We are more than happy to help you make the right decision.
Contact our Customer Service: 071-4097535 »
Getting accustomed
to Day Care
Getting accustomed to Day Care always happens in consultation with you. The guideline to getting accustomed to Day Care is to do this for at least 1 time and at the most 3 times. Provided this is sufficient or necessary for your child. It may happen that in certain situations, in consultation with you, we diverse from this guideline if it's better for your child.
You can make an appiontment with our pedagigical staff. The first time your child may arrive a little later, so he/she can get to know the group and members of pedagogical staff at a quiet moment.
Getting accustomed
to Pre-School
Pre-School locations are only open a few hours a day. In our experience, children usually get accustomed a bit quicker here. The first meeting always takes place simultaneously with and after the intake interview. Usually a second meeting in not necessary after that. But in general the same guidelines, as listed before, apply here and we will always evaluate every child and situation individually.
Getting accustomed
to After School Care
In general, the same guidelines as mentioned before, apply for children that switch from Day Care to After School Care. However, children aged 3 – 4 years old, that attend our Day Care, already participate in joint activities at the After School Care on a regular bases, in order to provide them more challenge. The advantage of this is, that the children usually get accustomed to After School Care faster, because they have already seen the space and met the members of staff and group of children. Of course, this depends on the child and the situation.
For new children the same guidelines apply as described at Day Care.