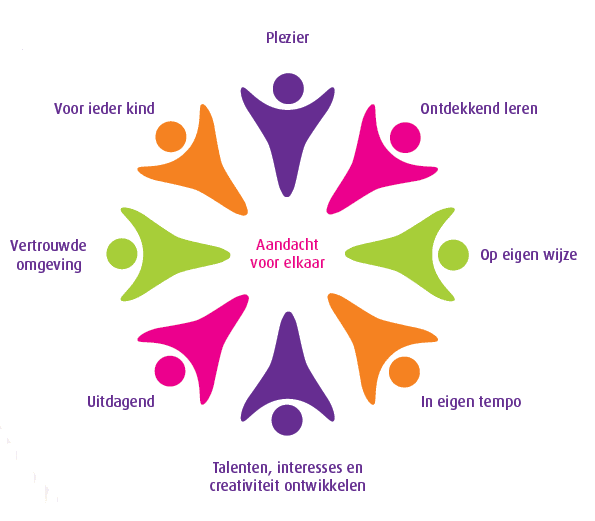 About us
Pedagogical vision
Our pedagogical vision reads:
A child may enjoy learning by discovery. We give full attention to this. In their own way and at their own pace, children can develop their talents, interests and creativity. We create a challenging and familiar environment where every child can be themselves.
It is important that children can develop at their own pace, both individually and together with other children. With our professional child care we contribute to the education and self-reliance of the children as a good preparation for the future. In addition, we work with various protocols in which the daily implementation is described with regard to, for example, sleeping, eating, playing outside and cleanliness, which are related to the pedagogical policy.
Parenting Goals
from the Child Care Act
Our pedagogical policy and vision focuses on the 4 educational goals established in the Child Care Act, namely:
Provide emotional safety
Encouraging the development of social competencies
Encourage the development of personal competencies
Transmission of norms and values
Children naturally develop according to an individual pattern and pace that is specific to each child. Pedagogical staff are attentive to this developmental process and support and guide where necessary. They do this through individual care and personal attention, by guiding and stimulating development in all its facets and by imparting norms and values. All this happens in a safe environment and in close consultation and good cooperation with you.