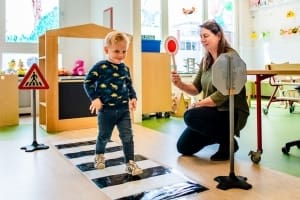 Toddler Talk
Pre-school education
Pre-school education (VE) stems from the national government policy aimed at educational disadvantages. In cooperation with the municipality of Katwijk, we work with the VE program 'Peuterpraat' at all our childcare and pre-school locations. The pedagogical staff watch the development of your toddler using the guidelines, ideas and possibilities from the program. Speech and language development is an important part of the program. The emphasis is on communication, having fun talking and increasing vocabulary and language comprehension. In addition, the program consists of support activities for the different areas of development.
Play is important. Because young children learn by playing. We work with different themes such as Autumn, Clothing or Shopping. Many ideas, possibilities, tips and activities are described in the program. We also have a discovery box per theme, which contains play and development material. We use this discovery box in many activities. Each theme comes with a parent letter containing tips for home, such as reading and game suggestions.
The theme recurs in:
songs in the circle
reading books aloud and telling stories
creative activities
game activities
material to play with
the arrangement of space
Intern supervisor VE
Internal supervisors VE are employed within Childcare Katwijk . They are trained pedagogical employees who have completed additional training. They give children with a VE care indication 1-to-1 guidance on a weekly basis, based on an action plan. Consultations are held structurally with the parents, the care coordinator and the pedagogical staff about this action plan, the findings and the progress route. A VE care indication is determined by the Center for Youth and Family (CJG).
Care coordinator
The care coordinator is the one who knows which children need care and what internal or external support they are offered. The care coordinator coordinates the care needs of the children and communicates about this with those directly involved (parents, pedagogical staff members and internal supervisors VE). In addition, our pedagogical staff can involve her in observations and issues concerning a child. The care coordinator is also the child abuse and domestic violence officer. Internally, she works closely with the pedagogical coaches and internal VE supervisors and externally with agencies such as the Center for Youth and Family, Auris, Cardea and Safe Home.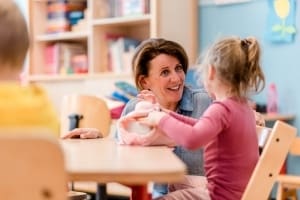 Ambition level and the care plan
Play, meet, develop, signal and support. These themes are central to "ambition level two. This means that children can play safely with other children. Attention is paid to all areas of development and the pedagogical staff is trained to identify developmental delays in children. Effective attention is given to toddlers with imminent delays. There is also support for parents with parenting questions.
The care plan was developed to support pedagogical staff in their approach when there are suspicions of a concern regarding a child's development. An equal approach is central here, to offer equal opportunities to all toddlers in the municipality of Katwijk.
Report code
Childcare Katwijk has adopted a Reporting Code for Domestic Violence and Child Abuse, following the legal requirement.
Our pedagogical staff members are aware of the contents of the Reporting Code. Based on this responsibility, they are expected to be alert to signs that may indicate domestic violence or child abuse in all contacts with children and parents, and to respond effectively to these signs while respecting privacy rules. As parents, you can contact the pedagogical staff and coordinator for support in this area. The Center for Youth and Family can also help you with this.